Introduction
Hello, friends in this post we learn about SEO, and step by step guide to learn how you find the best SEO Gig. And freelancer using Fiverr. You will also find some cool links to learn SEO at the end of this post. So let's go deep down to this post.
What is SEO?
Search Engine Optimization is the process where we can make our website more readable, user friendly, and can easily appear in search results of Google, Bing, Yahoo, etc.
SEO is the cost-effective method to boost your website traffic. It needs lots of patience and effort. There are lots of Search Engine Optimization strategies to learn and explore. But most favorable SEO's are On-page SEO, Technical SEO, and link building.
What is an SEO Friendly Website?
SEO friendly website can be easily modified and editable as per their requirement to change in strategies of Search Engine Optimization. So, that website can easily crawlable by Web crawlers and can be collect all efficient data from HTML pages. Mostly web crawlers programmed for reading only HTML pages or tags.
They don't understand what is written on the images. Or what's going on in the videos. They just collect data from the Html pages and index them in the search engines.
Signs of SEO Friendly Websites
The best search engine optimized websites have a few common facts. those are the following:-
They have clear and related content about their websites.
Every page has H1, H2, and H3 headings as well as links to other pages.
The best website which has great SEO will have at least 800 to 1600 words on their every page minimum.
They have at least 5-10 Inbound, Outbound as well as Internal links.
Every website has technical SEO and web crawl friendly
How To Find Best SEO Gig on Fiverr?
To find a great freelancer for your work on Fiverr follow these given steps:
Step1: Visit Fiverr website and log in to your account or make one.
Step2: Find a search box on the top left corner and enter SEO or you can enter SEO straight to the below search box provided by Fiverr.
Step3: You may find lost tots of search results. but first, you need to see the ratings and reviews. how many people do reviews and give him ratings more than 4 stars.
Step4: After you decide which freelancer you have to choose. Click on the freelancer's name and scroll down to see the reviews and descriptions of his profile. Analyze his previous works and remarks.
Step 5: finalize the gig and place the order which gig makes you satisfied.
How To Hire WordPress Developer For Amazing Business Website
If you are looking for a Web developer for making a simple WordPress website for your organization or for your portfolio website. You can hire me, I also provide you a Free SEO for your first website.
So, If you want to learn SEO on your own and apply it to your website by yourself. this is also the best option if you want to learn something valuable skill this year.
So, you can learn SEO from different resources like blogs, videos, eBooks, etc. And you can visit developers nation from time to time and you will find a nice blog to learn SEO and web development.
And I'm sure if you learn this skill it will add more value to your life, portfolio as well as your work. For learning, SEO clicks the image given below.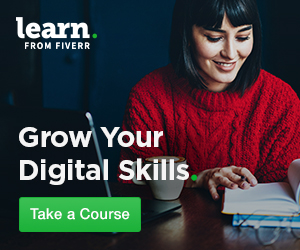 You May Also Like To Read: